---
Konrad Birkhaug's house
The building is located just south of the Sentralblokka (The Central Block), just above the Children's and Youth Clinic in Marie Joys' house.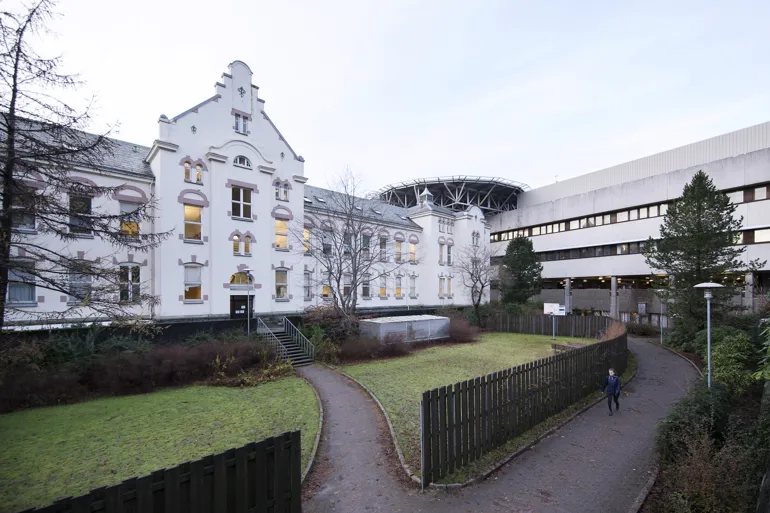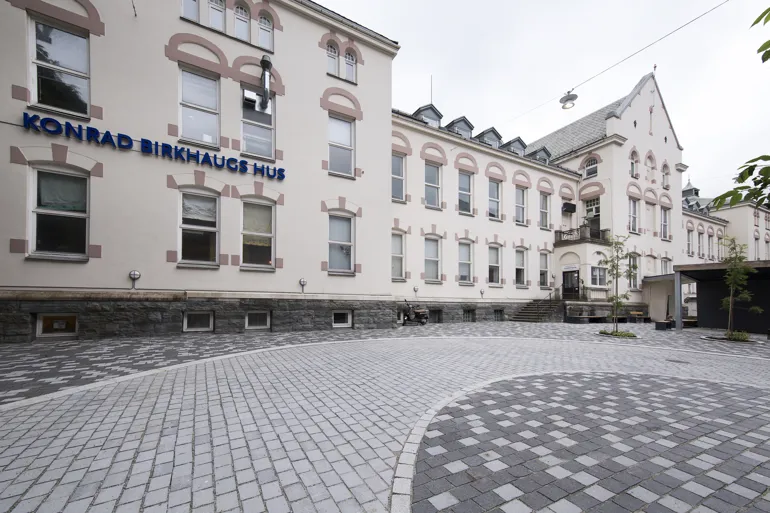 General information
Frivillige på Haukeland er her for å gjere pasientar og pårørande sitt møte med sjukehuset betre. Alle i frivilligheitstenesta er kledd i raude vestar og har fått kursing om rolla. 
Dei frivillige kan vise veg, vente saman med pasientar, bli med på luftetur i parken eller nærområde - og mykje meir. 

Kontaktinformasjon: 

The patient library allows patients and their next-of-kin to borrow books, DVDs and periodicals.
​
We have a large selection of books, comic books, audiobooks, digital books/cards and PlayStation, Wii and Xbox games, as well as DVDs, CDs, periodicals, newspapers and music.
We also lend DAB radios and playback equipment for films, audiobooks and music.

Opening hours
Monday, Wednesday and Friday 11.30–15.30.
​Tuesday and Thursday 11.30–17.30.


Book trolleys
Every Monday, Tuesday and Thursday we visit the departments with our book trolley. If you would like to borrow something but are unable to make it to the library, feel free to contact us during opening hours, and we will deliver the requested material to you.


Computers and printers
The library has a public computer and printer/photocopier. Patients and next-of-kin are welcome to use the internet, do their online banking, print off plane tickets etc.


Visual art
We also lend visual art. Please contact us for more information.
 
Som inneliggande pasient vil du få matservering på avdelinga du ligg på. I tillegg kan du og besøkande kjøpe alt frå dagens middag til smårettar, bakevarer og kioskvarer på sjukehuset. I nærmiljøet finst også fleire daglegvarebutikkar.
Pasientbiblioteket på Haukeland er til for pasientar og pårørande. Her er utlån av bøker, både tekst- og lydbøker, filmar, musikk og tidsskrift. Biblioteket har også mange aviser til utlån, mellom anna alle lokalavisene i distriktet.
For dei som ikkje kan komme seg til biblioteket, har vi et tilbod med boktraller med eit utval frå biblioteket som blir trilla rundt til avdelingane.
Pasientbiblioteket finn du i foajeen i Sentralblokka på Haukeland. Kom innom for ein prat, lån ei bok eller slå deg ned i salongen med ei avis.

​There is a pharmacy in the foyer of the main hospital building (Sentralblokka). This is a public pharmacy operated by Sjukehusapoteka Vest.

Alle pasientar og besøkande kan bruke gratis trådlaust internett på dei fleste områda på sjukehuset.
Gjest.ihelse.net er eit trådlaust nettverk for besøkande, pasientar og tilsette. Slik koblar du deg til gjestenettet vårt:
Koble deg til det trådlause gjestenettet (gjest.ihelse.net)
Ein nettlesar skal opne seg automatisk. (Om påloggingsvindauget ikkje dukkar opp, forsøk å opne nettlesaren manuelt).​

Trykk "Godta" når du har lest og forstått vilkåra.
Innlogginga skjer automatisk på einingar etter første pålogging, så lenge kontoen er aktiv. Det skal bare være nødvendig å logge seg på éin gong per eining per 31 dagar. 
Trøbbel med å kople til trådlaust internett?
Sjukehuset har dessverre dårleg nettverk nokre stader. Du kan derfor ha problem med å få logga deg på nettverket. Vi beklagar dette, og jobbar med å utbetre dette.
Har du ein nyare mobiltelefon, og problem med å kople det til trådlaust gjestenett på sjukehuset? Det kan skuldast nettverksinnstillingane på telefonen din.